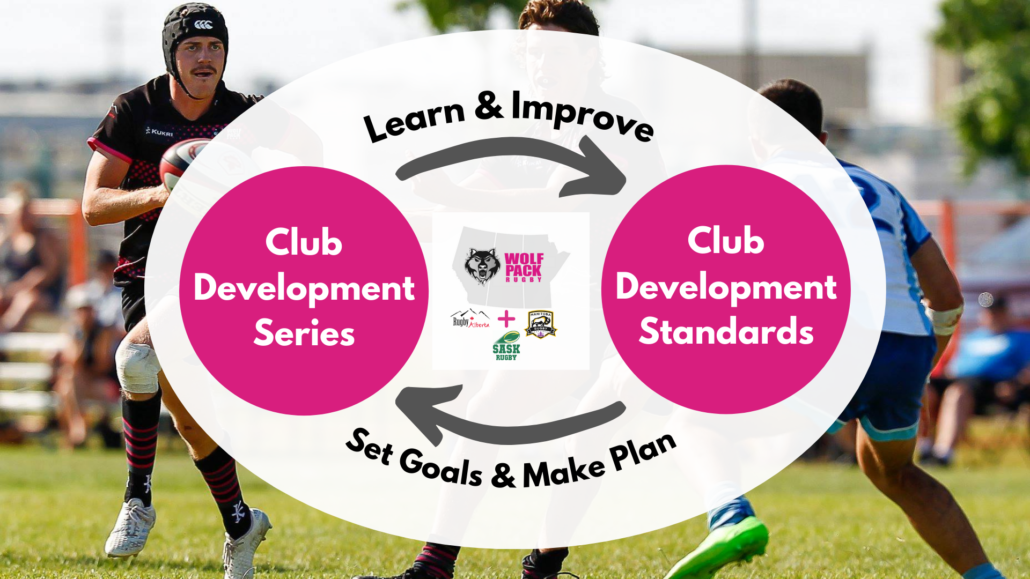 The emPowering the Prairies program is a development, training, and evaluation program for rugby club and program administrators. The over-arching goal of this program is to provide professional development opportunities to leaders of rugby organizations to help them make their organizations, clubs, and programs more sustainable and successful. The emPowering the Prairies program is a partnership between Rugby Alberta, Saskatchewan Rugby, and Rugby Manitoba and looks to leverage resources and networking opportunities across all three provinces.
The emPowering the Prairies program consists of two sister programs, the Club Development Series and the Club Development Standards. As seen in the graphic above, these programs are intended to work together in a cycle to help clubs improve. See the section below for more information and to access dedicated webpages for each program.
The Club Development Series is an annual educational webinar series covering a wide selection of topics relating to club and program administration.
Hear from expert speakers from a variety of rugby and sporting organizations.
Exchange ideas with other club administrators.
Gain access to resources and exercises to help you improve your organization.
All of the Club Development Series material, including recordings of presentations, and the shared resource folder can be accessed via the button below!
CLUB DEVELOPMENT STANDARDS
The Club Development Standards is an online benchmarking tool for rugby organizations that allows administrators to evaluate the status of their organization against best practice.
The Standards consist of an easy-to-complete self-evaluation that should take no more than an hour to complete as a Board/Executive.
Organizations receive a breakdown of their responses to allow them to quickly and easily identify their strengths and weaknesses.
The respective provincial unions will help organizations turn their self-evaluation into an action plan and provide further resources catered to the organization's specific needs.
Learn more about the Standards and take the self-evaluation below!